PNA: Troops capture ranking NPA leader at Zambo Sur hospital
Government forces captured a wounded ranking leader of the communist New People's Army (NPA) at a hospital in the Zamboanga del Sur city of Pagadian, the military said Wednesday.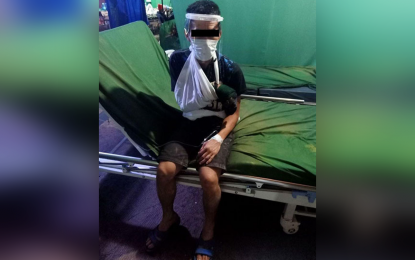 The Army's 53rd Infantry Battalion and Zamboanga del Sur Provincial Police Office identified the NPA rebel as Rowel Monasque carries the aliases of Ka Jotham and Ka Henry, according to the Western Mindanao Command (Westmincom).
Monasque is the leader of the NPA's Main Regional Guerrilla Unit (MRGU) of the Western Mindanao Regional Party Committee (WMRPC) operating in the region, Westmincom said.
Brig. Gen. Leonel Nicolas, the Army's 102nd Infantry Brigade commander, said Monasque was arrested around 6 p.m. Tuesday at the Zamboanga del Sur Medical Center in Pagadian City.
Monasque figured in an encounter with government forces on Monday in Barangay Marangan, Dumingag, Zamboanga del Sur, Nicolas said.
"He (Monasque) is currently undergoing medication for the wounds sustained during the encounter," Nicolas said.
Lt. Col. Jo-ar Herrera, commander of the Army's 53rd Infantry Battalion, said the capture of Monasque was a result of the pursuit operations they launched following Monday's encounter.
During that clash, a rebel was killed while the troops recovered high-powered firearms, bomb-making components, and personal belongings.
A day before Monasque's capture NPA rebels Jaymar Balaas Bellano and Gemma Donsalo Ayas–were arrested while fleeing from clash site in Barangay Marangan, Dumingag.
The two NPA rebels escaped from the encounter site bringing along with them assorted war materials, supplies, and garments.
"We thank all our stakeholders, people who played a vital role in our campaign to end local communist armed conflict in our area," Herrera said.
Maj. Gen. Generoso Ponio, 1st Infantry Division command, assured that the captured NPA leader "will be taken care of, regardless of his position and leadership in the armed group." (Philippine News Agency)