PNA: Troops recover NPA arms cache in Zambo Norte
Government troops have recovered an arms cache of the communist terrorists New People's Army (NPA) in a remote village in Zamboanga del Norte, military officials said Wednesday.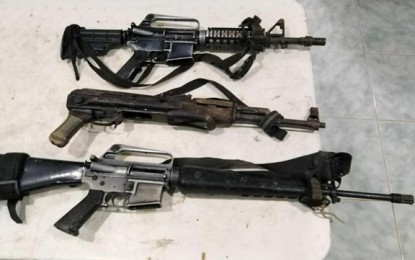 Lt. Col. Jo-ar Herrera, the Army's 53rd Infantry Battalion commander, said the arms cache containing several high-power firearms was unearthed in a follow-up operation Tuesday in Barangay Pange, Siayan, Zamboanga del Norte.
Herrera said the troops launched the follow-up operation based on information provided by a former member of the Main Regional Guerilla Unit (MRGU) of the NPA's Western Regional Party Committee (WMRPC).
Herrera said the discovery of the firearms was proof that many are disgruntled with the "communist terrorist NPA".
"If it's not the community, it's the former rebels who disclose the locations of their firearms. This is proof that the FRs (former rebels) are tired of the NPA atrocities and also want this insurgency to end," he said.
The troops recovered the arms cache a day after government forces clashed with a group of rebels that led to the recovery of an M-16 Armalite rifle with several rounds of ammunition, medical supplies, personal belongings, and propaganda materials.
Lasting for 10 minutes, the clash broke out took while the troops were on combat operation Monday in the boundary of Sitios Macasing and Sinatalan, Barangay Pange, Siayan.
Meanwhile, Col. Leonel Nicolas, 102nd Infantry Brigade commander, urged the remaining members of the communist terrorist group to abandon the armed struggle.
"Many among your ranks are already seeing the light after being imprisoned in the dark for many years of deception and lies by the Communist Terrorist Groups," Nicolas said. "Lay down your arms and allow us to help you return to your families."
On the other hand, 22 former members of the communist terrorists NPA has received Tuesday PHP20,000 initial financial assistance from the Provincial Enhanced Comprehensive Local Integration Program (ECLIP) committee.
Nicolas said that the former NPA rebels are now being processed for enrollment to ECLIP, which includes firearms remuneration. (PNA)