PNA: 53IB fetes personnel for 'exemplary combat' feat
The Army's 53rd Infantry Battalion (53IB) on Friday commended a squad of its Bravo Company for their "heroic achievement" in a clash against the communist New People's Army (NPA) in Zamboanga del Norte.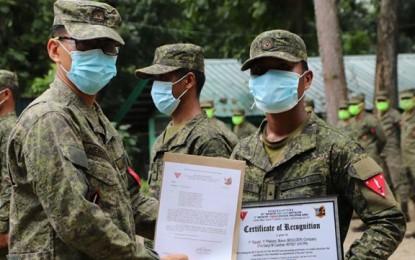 Lt. Col. Jo-ar Herrera, 53IB commander, said the nine-man squad managed to recover high-powered firearms and an improvised explosive device (IED) during a firefight with the rebels in Barangay Macasing, Siayan, Zamboanga del Norte on July 11.
For security reasons, he was unable to release the identities of the soldiers, who received certificates of recognition and letters of commendation.
Herrera led the ceremony in Camp Sabido that houses the battalion headquarters in Guipos, Zamboanga del Sur.
Among the high-powered firearms recovered were a caliber .50 sniper rifle (Barrett), a rocket-propelled grenade, an improvised shotgun, an M-16 rifle, and a 15-kg. IED fashioned out as a landmine.
Herrera said the "communist terrorists" involved in the clash belong to the NPA's Main Regional Guerilla Unit (MRGU) under the Western Mindanao Regional Party Committee (WMRPC).
He said the squad, headed by a sergeant, demonstrated "outstanding performance and dedication to duty." (PNA)