PNA: Zambo Sur, military launch 3 infra projects
The provincial government and the military have launched three infrastructure projects in remote areas to uplift the living condition of farmers and address the insurgency problem.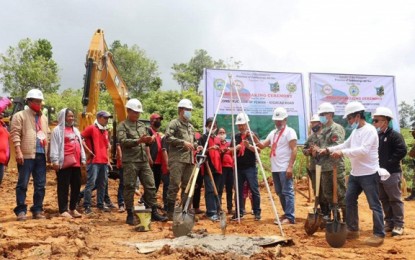 The projects include the construction of a hanging bridge in Barangay Duelic, Midsalip; the opening of a 4.5 kilometers road linking Barangay Piwan, Midsalip to Barangay Sigakad, Bayog; and road concreting in Barangay Pisompongan to Barangay Balonai, Midsalip.
Anastacio Gandingon, Piwan barangay chairperson, told the Philippine News Agency during Thursday's groundbreaking ceremony that the road projects would boost the economic activity in the area.
Maj. Gen. Generoso Ponio, commander of the 1st Infantry Division (1ID), said Saturday the projects aim to hasten the delivery of government basic services and show the local population the government's resolve to address the communist insurgency.
Ponio said the road opening project connecting the towns of Misalip and Bayog would eliminate the "safe haven" of the communist New People's Army (NPA) rebels in the two towns.
"The NPA group would soon die down and surrender," Ponio said.
Gadingon urged the NPA rebels to stop its "extortion operations" that have been victimizing poor village residents.
Jonalyn Catanes of Barangay Piwan said the opening and concreting of the road "will give much relief to the farmers" in transporting their farm products to the town center of Midsalip, which is 20 kilometers from the village.
"We pay PHP2 to PHP4 per kilo of the farm products to transport to the town center by habal-habal (motorcycle taxi) or horse from our barrio to the town center. That's a burden for us who could only sell the products like rice, corn, banana, copra, and other fruits to the middlemen at a low price," Catanes said.
Catanes said they would walk on the muddy road because of the prohibitive fare of the habal-habal going to the town.
Col. Emerito Pineda, 547th Engineering Battalion commander, said the projects are supervised by the Provincial Task Force to End Local Communist Armed Conflict (PTF-ELCAC).
Pineda said the road opening will not only address problems on peace and order but "will improve their livelihood, access to basic services would also come through like education, health, electrification, and potable water source."
"The project is a dream coming true for them (the residents)," he added.
Gov. Victor Yu said the provincial government will use its own equipment to fast-track the projects.
"These (projects) would reduce the extortion and armed activities of the enemies of the state," Yu said.
Ponio assured that they will provide security to ensure the completion of the three projects, which is scheduled to finish by December. (PNA)